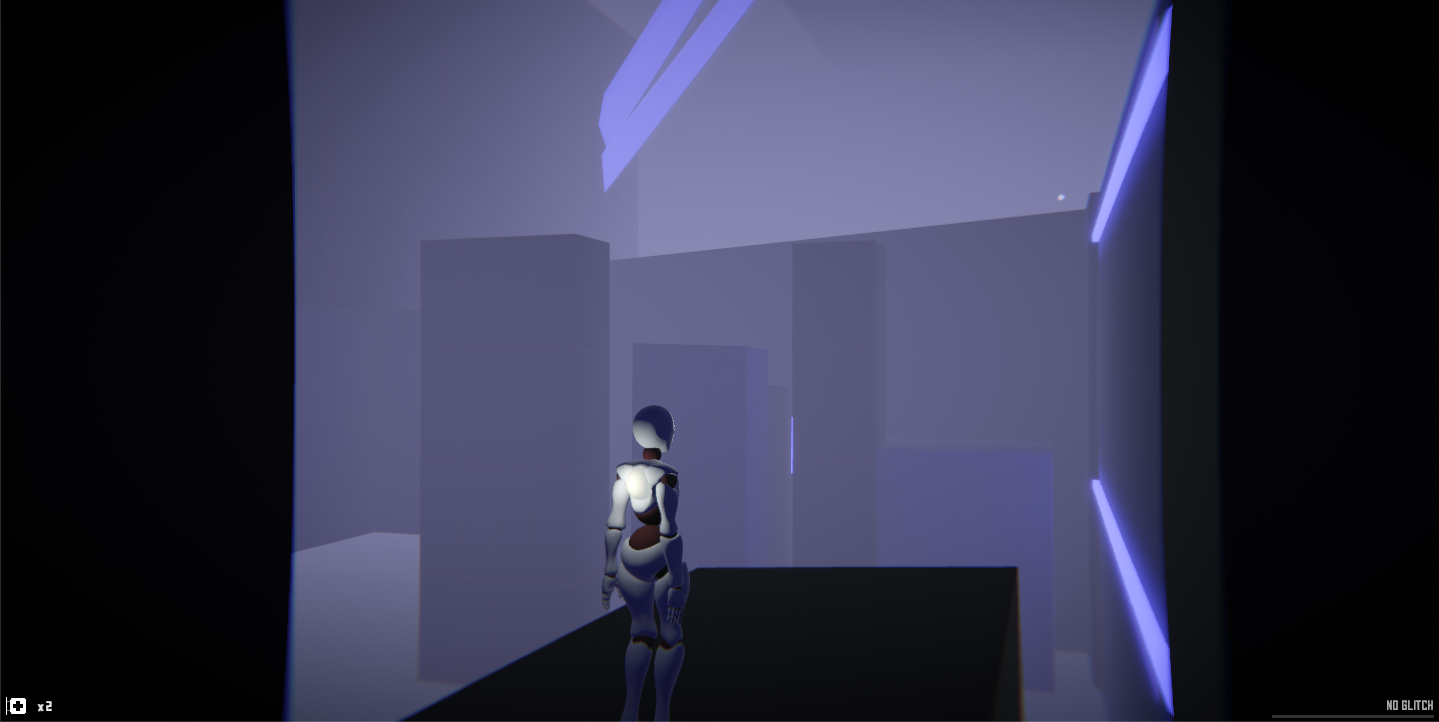 Glitched Construct
A downloadable Glitched Construct for Windows
During the '#createjamfall2019', I participated solo and decided to make a third person game, with a heavy emphasis on platforming. I ended up not being able to publish the game before the deadline but I got around to finishing it eventually. The idea for the game is that in a perfect simulation, you appear as a glitch in the system and try to find your way out. Through the game, it would later be visible that you're not the first glitch, and that the system itself might be making you for a reason, which would be later revealed.
The player has four special abilities that they can switch between:
- FORCE | the player can pull objects and then throw them, once they hit something any enemy in the area will focus on that object.
- SHIELD | the player can invoke a sphere around them which blocks all attacks, if the attack hits in the beginning of using the shield, the bullet hits back in whoever shot it.
- SLOW | the player slows down the whole world around themselves, making it possible to run through a room full of enemies or slowing down environmental threats.
- SWORD | the player can either slice enemies or warp to an enemy, instantly killing them over a distance.
The game also has different ways for the player to move around, such as wall running, jump pads, stealth walking and different types of platforms and doors to hack. I also built an extensive settings menu which allows to volume control, switching fullscreen mode and inverting the mouse/gamepad camera controls.
It also has a respawn system where if a player falls down, the last recorded safe spot they were on is used to respawn on, as well as taking away some of their health.

Game Size: 1.8 GB.
https://media.giphy.com/media/iGSXZjQ4N5fe0xEzBd/giphy.gif

https://giphy.com/gifs/dxmE4Co1rineYmhpxd

https://giphy.com/gifs/SvL3F3JOdAMQgNWyWN

https://giphy.com/gifs/loH1Zv4oCdSGPrXGkg

https://giphy.com/gifs/USaIzhhd4GyWEyepPa

https://giphy.com/gifs/kILmPMEnmLJyoY6tm6

https://giphy.com/gifs/W6EdyegkxW1zUyZIQs
https://giphy.com/gifs/jt2zzdbw1RRjc2G37f

Music:

Cell - Calling
https://www.youtube.com/watch?v=dgqAqrEXzSc
Aes Dana - Antimatter(Post)
https://www.youtube.com/watch?v=bImEhSEiqZA
Carbon Based Lifeforms - Abiogenesis
https://www.youtube.com/watch?v=LoKt4vhJ-c0&t=11s
SYNC24 - Dance of the Droids
https://www.youtube.com/watch?v=joI6Dg1uNBY
Ephemeral Mists - Sacred Geometries
https://www.youtube.com/watch?v=ot3pRQjxD-s
Suduaya - Snow & stars
https://www.youtube.com/watch?v=Ed0gRO6pehs
Suduaya - Unity
https://www.youtube.com/watch?v=7r04Mw7yKFw

SFX from https://freesound.org/